In my last post, I mentioned a fondness for Messiaen's knack for using symmetrical pitch sets as a means of generating melodic and harmonic material. This post will focus on introducing Messiaen's Mode 3:

There are texts that refer to this collection of notes as the "nine-note augmented scale." And while they're not incorrect, I hesitate to use the term "augmented," as it implies that the scale is only useful over augmented chords. If looked at vertically, we'll find that there are many major, minor, and diminished triads, seventh chords, and plenty of other functional harmonic sets available within this collection of notes.
As a means of highlighting both the symmetry and melodic possibilities of the scale, I like to look at this mode as a series of three identical trichords. A trichord, plain and simple, is a collection of three pitches, arranged in any order. The pitches in question for this discussion are: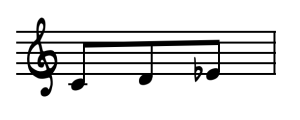 Messiaen's Mode 3 consists of nine notes. These nine notes can be broken down into three trichords.

By starting on a different note within the mode, or by skipping notes, several trichords are possible. My choice of this one in particular is arbitrary, as is my use of numbers and shapes to differentiate one pitch from another, and one trichord from another.
The trichord used above consists of a whole step (C to D) followed by a half step (D to Eb). Since C is a major third from E, and E is a major third from G#, and G# is a major third from C, using each of these notes as a starting point will provide symmetrical relationships from trichord to trichord.
See next post for more.